Francois Pierre Chaumenton
Flore Medicale, Paris, Pancoucke, 1842-1845

Please scroll down for bibliographic information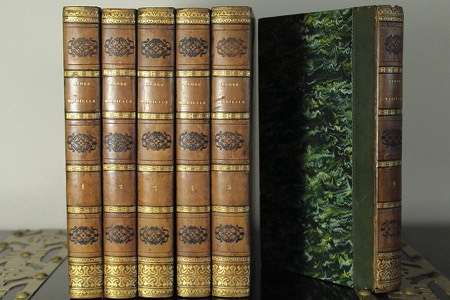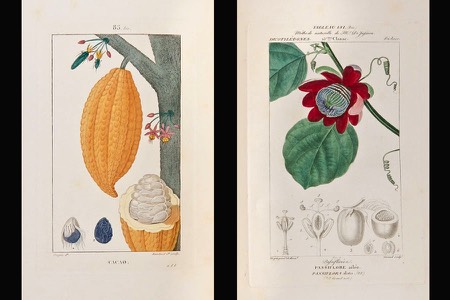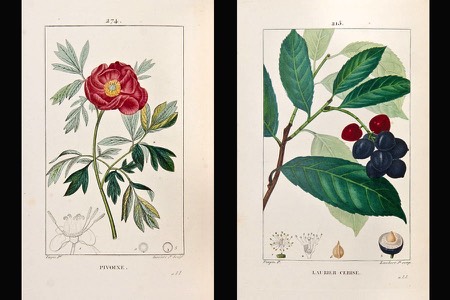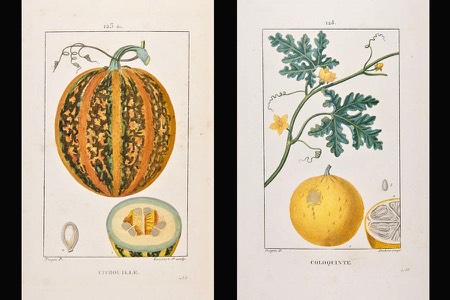 Chaumenton (Francois Pierre); Poiret (Jean Louis Marie); CHAMBERET (Jean Baptiste)
Flore Médicale décrite par Mm. Chaumerton, Poiret, Chamberet peinte par Mme. Pancoucke et par M. J. Turpin ... Nouvelle publication ...

Published in Paris, Imprimerie de Pancoucke, 1842-1845. Royal 8vo. Half-titles. With 360 stipple-engraved plates printed in colors and finished by hand after Anne-Ernestine Pancoucke and P.J.F. Turpin.
Period quarter green morocco with over marbled paper covered boards, flat spines divided into six compartments with rules in gilt and blind, lettered in the second and fourth compartments, marbled endpapers
.
The fine plates are after Turpin, widely considered to be the most important botanical artist in France next to Redoute and Poiteau, and by Anne-Ernestine Pancoucke, a pupil of Redouté and Van Spaendonck and the wife of the publisher (on Panckoucke, see E. Hardouin-Fugier, The Pupils of Redoute , p. 54). First published in octavo between 1814 and 1818, according to the original prospectus, twenty copies were done in quarto, five in folio and one copy for the King on vellum; later issues like the present were done in a larger format than the original regular octavo issue. According to the Plesch catalogue (though presumably referring to the 20 special quarto copies of the first edition), the "large paper edition was published at four times the price of the ordinary issue" and "the plates are better finished." Stafleu adds that the large paper issues "all have the same plates as the octavo edition but the text pages accompanying the plates are not numbered". Nissen 349; Stafleu and Cowan 1091; Plesch 132; Pritzel 1679; Sitwell, Great Flower Books, p. 87.
Price on request.