Pietro Andrea Mattioli
Commentarii in sex libros Pedaci Dioscoridis, Venetiis, Ex Officina Valgrisiana, 1565

Please scroll down for bibliographic information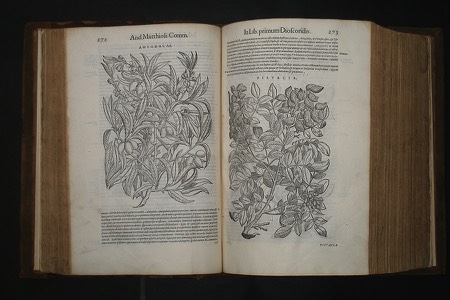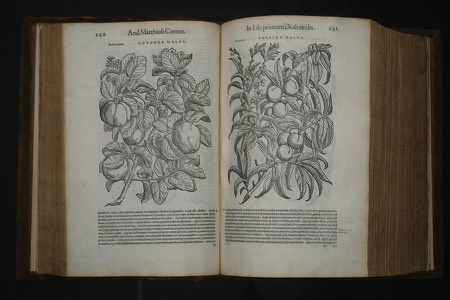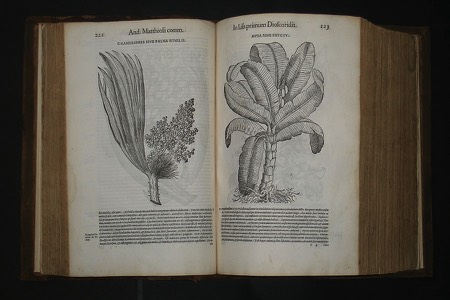 Mattioli (Pietro Andrea)
Commentarii in sex libros Pedacii Dioscoridis Anazarbei...de medica materia.


Published in Venice, Ex Officina Valgrisiana, 1565. First Latin Edition.
One volume, folio. Woodcut printer's device on title, full page woodcut portrait within elaborate border. Over 900 full page woodcuts of plants, herbs, animals, insects and distillation processes, most of them by Giorgio Liberale and Wolfgang Meyerpeck.
Some soling, repaired tears to three preliminary leaves running close to main text block and affecting some of the side notes. Last leaves soiled with final two leaves torn and repaired with significant loss. In overall, a very good copy with large margins. Full leather binding. First Latin edition of an extensively illustrated edition of Mattioli's commentary on Dioscorides's "De Materia Medica", first published by Valgrisi in 1554. Mattioli was a doctor and naturalist born in Siena. He received his MD at the University of Padua in 1523, and subsequently practiced the profession in Siena, Rome, Trento and Gorizia, becoming personal doctor of Ferdinand II, Archduke of Austria in Prague and Ambras Castle and Maximilian II, Holy Roman Emperor in Vienna. A careful student of botany, he described 100 new plants and coordinated the medical botany of his time in his "Discorsi" ("Commentaries") on the "Materia Medica" of Dioscorides. The first edition of Mattioli's work appeared in 1544 in Italian. The commentary quickly became 'an encyclopedia of Renaissance pharmacology' (cf. Stillwell, Awakening of Science 450) and in 1565 Mattioli augmented it considerably with fuller notes. There were several later editions in Italian and translations into Latin (Venice, 1554), Czech, (Prague, 1562), German (Prague, 1563) and French. In addition to identifying the plants originally described by Dioscorides, Mattioli added descriptions of some plants not in Dioscorides and not of any known medical use, thus marking a transition from to the study of plants as a field of medicine to a study of interest in its own right. In addition, the woodcuts in Mattioli's work were of a high standard, allowing recognition of the plant even when the text was obscure. A noteworthy inclusion is an early variety of tomato, the first documented example of the vegetable being grown and eaten in Europe. Incidentally Mattioli described the first case of cat allergy. His patient was so sensitive to cats that if he was sent into a room with a cat he reacted with agitation, sweating and pallor. Adams D-669; Nissen BBI 1305; Stafleu and Cowan TL2 III, p. 372.
Price on request.


Collation:

172 pp. (*6, **8, A-M6).

1459 pp. A-Z6, Aa-Zz6, Aaa-3Z6, Aaaa-Zzzz6, Aaaaa-Zzzzz6, Aaaaaa-Ffffff6, Gggggg4.
13pp. (blank verso - Hhhhhh6)