A. Risso & A. Poiteau
Histoire et culture des Orangers, Paris, Plon, 1872

Please scroll down for bibliographic information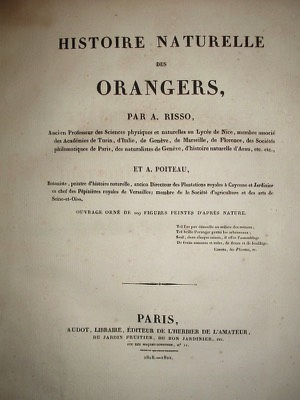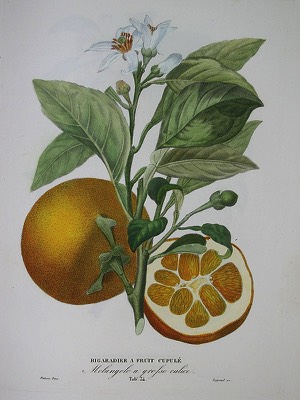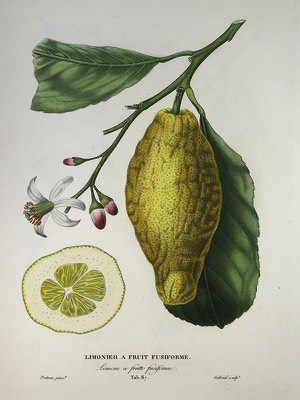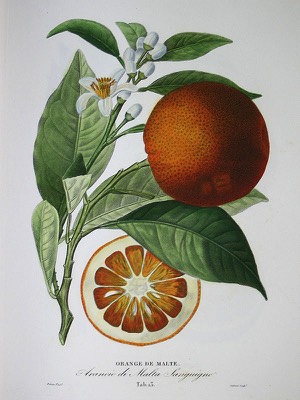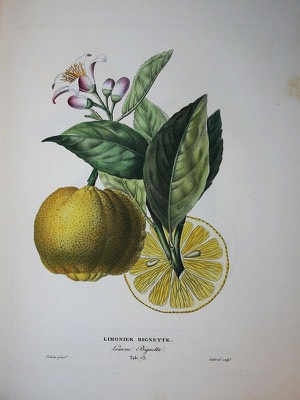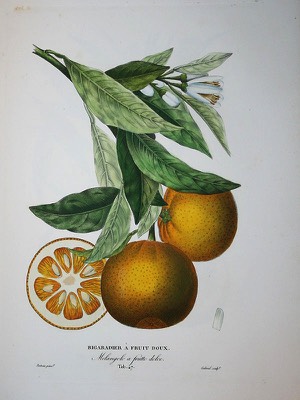 Risso (Antoine) & Poiteau (Antoine)


Histoire et culture des orangers
.

Published in Paris, Plon, 1872. One volume. With 110 stipple-engraved plates, finished with hand coloring after Poiteau by V. Bonnefoi, Chailly, Dien, Gabriel, Legrand, T. Susmihl and Texier. (Some spotting to text and marginally to plates). Contemporary red cloth, spines gilt.
Second edition of this beautiful and inspiring work" (
Great Flower Books
). Antoine Risso, a French naturalist and pharmacist who became director of the
Jardin de Naturalisation
in Nice, was a "pioneer botanist of the Alpes Maritimes" (Stafleu). In his dedication to the Duchesse de Berry, he recalls her Italian childhood: "Votre Altesse Royale, en retraant ses yeux l'image des fruits qu'elle cueillit souvent de sa propre main sous le beau ciel de l'Italie". The Redoutesque plates are all from the drawings of Antoine Poiteau (1766-1854). Early in his career Poiteau taught botany and was employed as a gardener; he then made a plant-collecting expedition to the Caribbean. On his return to Paris in 1800, he concentrated on his work as an illustrator of botanical works. Poiteau is often listed as a co-author as well as illustrator of the present work, as, in addition to providing the drawings, Poiteau also contributed information concerning tropical varieties. The first edition was published in 19 fascicles between July 1818 and August 1820, and is one of the most spectacular productions of Parisian color printing in the early nineteenth century: "These oranges and lemons and their relations, with leaves, flowers, and often cross-sections as well as whole fruits, form one of the most beautiful and complete records of the varieties known in the nineteenth century" (Raphael,
An Oak Spring Pomona
). Dunthorne 263;
Great Flower Books
p.73; Nissen
BBI
1640; Stafleu & Cowan 9248.
Price on request.