Cheret Jules (Editor)
Les Maîtres de l'Affiche, Paris, Chaix, 1896-1900

Please scroll down for bibliographic information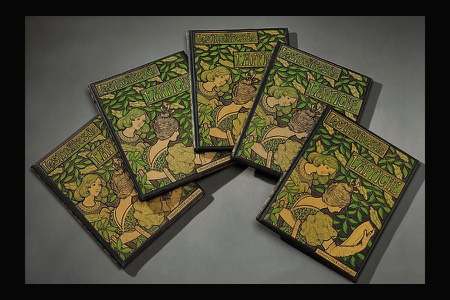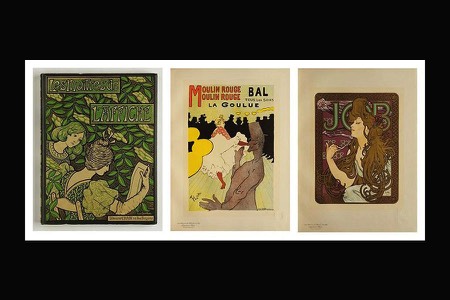 Jules Cheret (editor)
Les Maîtres de l'Affiche


Published in Paris, Imprimerie Chaix, 1896-1900.
Complete in Five Volumes Comprised of 256 Lithographs, including the 16 Special Plates. First edition. Five folio volumes, bound. With 240 color lithographed plates plus 16 bonus plates created exclusively for this series. Prefaces by Roger Marx.
Bound in stunning
art nouveau
pictorial bindings designed by artist Paul Berthon in dark green cloth stamped in light green, cream, and gold. Beveled boards, blue-gray endpapers, top edges gilt. Tissue-guarded plates on wove paper, measuring approximately 15.5 x 11.375 inches (394 x 289 mm), each with blind-embossed printer's stamp in lower right corner. Prints are in generally excellent condition, with some toning around edges and occasional foxing (most of which occurs outside the image areas). Foxing is most prominent on the sixteen "special" plates. Colors are vivid; gilt, where present, is extraordinarily bright. The bindings are in beautiful condition, with minimal shelf wear. Overall, a spectacular set in fine condition.

Les Maîtres de l'Affiche
("Masters of the Poster") was a subscription series conceived by the great French poster artist Jules Cheret, the "Father of the Poster" who revolutionized advertising art through his designs and his innovative color lithography techniques. His series reproduced the spectacularly colorful and lively advertising posters that had burst upon the European scene and delighted the public in the waning years of the nineteenth century. Cheret's series reproduced these extremely popular posters in a reduced, manageable version while still retaining the authentic vivid colors of the originals.
The series includes contributions from 97 European and American artists, including Toulouse-Lautrec, Mucha, Parrish, Grasset, Steinlen, the Beggarstaffs, Denis, Vollard, Vallotton, and Cheret. The plates were printed on high-quality paper using state-of-the-art printing techniques. The original very large posters, on the other hand, were mass produced and were intended as ephemeral advertisements and not as collectible art; they were generally printed on newsprint and had a very short lifespan. The plates from
Les Maîtres de l'Affiche
have stood the test of time and are almost always in better condition than the originals; in fact, many of the originals did not survive, and the smaller versions from this series are the only examples of the posters extant.
Sold by subscription, the very popular series was issued four prints at a time in sixty monthly parts for five years, with sixteen "special" plates included throughout the series. The plates were originally issued as loose sheets, but subscribers who wished to have their plates bound were offered the opportunity to have hardcover editions bound in a specially-designed binding by Paul Berton.
Price on request.